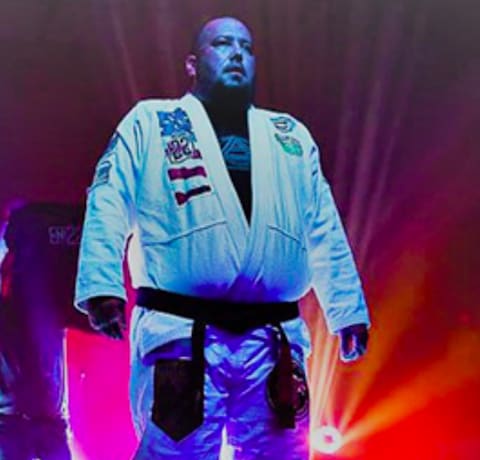 Jeff Manalansan
Jeff was born and raised in Baltimore, MD. He attended Cardinal Gibbons High School where he earned 13 Varsity sports letters. He continued on to Neumann University where he studied Early Childhood and Elementary Education. He later went on to earn his Bachelors of Science Degree in Organizational Security and Management from the University of Phoenix. While at Neumann University, his school won the ECAC Southern Division III Championship (Lacrosse), and Jeff was named Most Valuable Player. In 2000, he was injured and forced to watch his team from the sidelines. Later that year, he met his wife and they had their first child. On September 10, 2001 he joined the United States Navy and become a Navy Corpsman. While serving with the United States Marine Corps, he was introduced to Marine Corps Martial Arts, which he developed a passion for. Jeff was awarded the Navy Commendation Medal for conduct in Combat, as well as the Purple Heart for wounds received in combat. He was later introduced to Gracie Jiu-jitsu by his instructor and fellow Navy Corpsman Roland Malone. He soon discovered that this was the ideal outlet for anger and aggression and it significantly helped him manage his Post Traumatic Stress Disorder (PTSD) and cope with his divorce. After six months of training, he earned his Blue belt. In 2008, he became the head instructor for the Malone Academy. After 8 years of service in the Navy, he was honorably discharged in July 2009, and returned home to Baltimore. He began teaching and training again with Sifu Damien Kesltle, and Master Mike Ocampo. Jeff has trained in Krav Maga and Bas Rutton Kickboxing under Otis Berry. On May 20, 2017, he earned his Black Belt from Master Pedro Sauer. Jeff currently teaches and trains Brazillian Jiujitsu, and Mixed Martial Arts at Roland Malone Academy in Frederick, Maryland. Additionally, he trains and teaches at PMA in Woodbridge, VA.
HEIGHT: 5'8"
WEIGHT: 275 lbs
HOMETOWN: Baltimore, MD
WEIGHT CLASS: Ultra Heavyweight.
ACCOMPLISHMENTS:
2008 / 2009 IBJJF European Championship – Competitor
2009 Naga DC – Silver Medalist No-Gi Super Heavyweight (intermediate), Bronze Medalist – Blue belt (Super Heavyweight)
2010 Baltimore Jiu-jitsu Championships – Silver Medalist Blue belt (Absolute), Bronze Medalist Blue belt (Super Heavyweight), Bronze Medalist No-Gi Advanced (Super Heavyweight)
2013 NABJJF New Jersey BJJ International – Gold Medal Brown Belt (Ultra Heavy), Silver Medal No-Gi Advanced (Ultra Heavy), Bronze Medal No-Gi Advanced (Absolute)
2014 PSBJJA Harrisburg Open – Silver Medal No GI Brown Belt (Ultra Heavy), Silver Medal GI Brown belt (Ultra Heavy)
2014 Good Fight Thanksgiving Showdown – Silver Medal Brown Belt (Absolute)
2014 USA JUDO Presidents Cup – (Novice) Gold Medal
2014 USA JUDO Military Police Games – Silver Medal
2015 Tap Cancer Out Open – Silver Medal GI Brown belt (Ultra Heavy)
2015 Good Fight All-star Invitational – Competitor
2015 New Breed Richmond Open – Silver Medal GI Brown belt (Ultra Heavy)
2015 SJJIF World Championships – Masters Gold Medal No GI Brown Belt (Ultra Heavy), Silver Medal GI Brown belt (Ultra Heavy), 4th Place Absolute Division (Gi/No Gi)
2016 New Breed Virginia Open – Gold Medal Gi Brown Belt (Ultra Heavy)
2016 New breed Virginia Beach Classic – Silver Medal Gi Brown Belt (Ultra Heavy)
2016 New Breed North Carolina State Open- Silver Medal Gi Brown Belt (Ultra Heavy)
2016 Tap Cancer Out Open – Silver Medal GI Brown belt (Ultra Heavy)
2016 SJJIF World Championships – Senior 1 Bronze Medal Gi Brown Belt (Ultra Heavy)
2017 USA Judo National Championships – Competitor
Fight to Win Pro 40 Philly – Competitor
2017 SJJIF World Championships – Senior 1 Gold Medal Black Belt (Ultra Heavy)
Fight to Win Pro 53 Frederick – Competitor
2018 Us Grappling (Frederick) – Silver Medal Black Belt GI (Ultra Heavy), Silver Medal Advanced NO Gi (Ultra Heavy)
2018 COPA Virginia – Silver Medal Black Belt Absolute, Bronze Medal Black Belt GI (Ultra Heavy)
Fight to Win Pro 70 Baltimore – Competitor
Pro MMA Record: 0 – 1